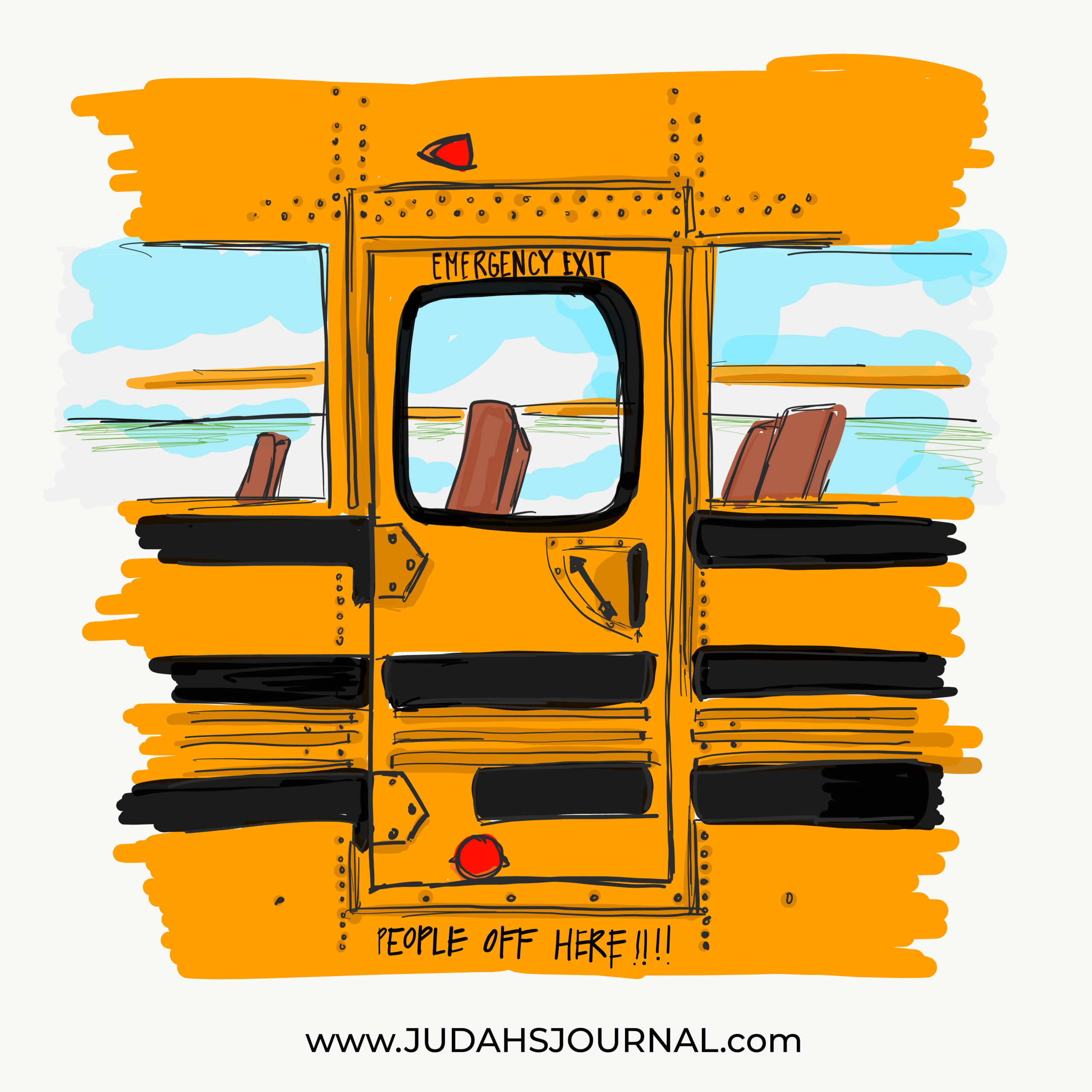 19 Mar

Who's on Your Bus?

A few days ago, a child told my 5-year-old son that she was sad that he was black because she does not like mismatched things – and that his skin color should be the same as hers.

This encounter made me feel angry and also, so very sad.

Sad – not only because this child clearly, already has the wrong thinking, but also – sad because I wondered if I had exposed my son to the wrong people and the wrong school. As a black woman, raising a black son – fear and these questions constantly circle my mind.

I know there are some things and situations that I will not be able to protect him from, but I will protect him at all costs in the cases where I do have control.

There is a widely known thing, quote, and/or fact – that "a child cannot grow or learn in an environment that they don't feel safe in."

Some of my goals as a parent are to 1: not create a childhood that my child spends his entire life healing from, and 2: for him to always feel safe and protected when I have anything to do with it; I always want to encourage that he places himself in healthy environments, where he feels comfortable to be his whole beautiful, black, vulnerable, imaginative, and intelligent self – to the fullest extent.

Some of you may have read this story and think —- she is overreacting, they are just kids – and this happens! And while it is your right to have that opinion, I would like to challenge you to think about yourself.

I challenge you to think about all of the environments that you have placed yourself in.

Not your parents.

You!

Ask yourself: As a woman and adult, have I always had the courage and/or ability to place myself in environments where I feel safe? Not just physical safety and certainly not a surface level false sense of security, but – an environment that cultivates my learning, growth, and confidence. One that allows me to shine like both – the sun and stars. The kind that elevates you and gives you a landing place to place your feet upon.  A place that not only hears your voice but values and takes into account what you have to say.

Do the jobs that we chose to work for, the relationships we enter, and the people we chose to surround ourselves with have the best in mind for us?

There's a story in the bible about the healing of the daughter of Jarius.

Jairus was a religious leader and ruler in the synagogue of Capernaum.

He had heard about Jesus' reputation as a miracle worker, and he went to Jesus, pleading with Him to come to lay His hands on his only daughter, who was near death. He humbled himself before Jesus, falling at His feet. After expressing his faith in Jesus' ability to heal his child, and Jesus began to follow him home.

Jesus was on his way to Jairus' house when he was interrupted by a woman who touched his cloak to cure her bleeding.

While Jesus and his disciples were once more on the way, they received a message that the twelve-year-old girl had died. Jesus' words are significant, "Don't be afraid; just believe." Here Jesus is stressing that anything is possible when we have faith.

"When they came to the home of the synagogue leader, Jesus saw a commotion, with people crying and wailing loudly. He went in and said to them, 'Why all this commotion and wailing? The child is not dead but asleep.' But they laughed at him."

Sis, this is the part of the story I want you to lean in for.

"After he put them all out, he took the child's father and mother and the disciples who were with him and went in where the child was."

 At this point, Jesus takes his closest disciples – Peter, James, and John (His inner circle) – and the child's parents into the room and tells everyone else to leave.

Jesus then heals by touch when he takes the little girl by the hand. He says "Talitha cumi," which means "Little girl, get up." "Immediately, the girl stood up and began to walk around."

Insert *praise dance*

For life to be restored and for the blessing to take place — Jesus knew that only certain people could be in the room.

He couldn't have unbelievers with Him for the blessing to take place.

He couldn't have the hopeless with Him when He restored life.

He couldn't have the non-praying with Him.

He couldn't have quitters with Him.

The same goes for the people we place around our children, and the same goes for the people we place around ourselves.

To live the life that God has predestined for us, we must make sure that the right people are in the room with us.

Even though we have good intentions, even though we love some people, for us to be whole and healthy, to thrive and to prosper – there are just some people that cannot go on the journey with us.

There is this a quote from the book "Good to Great" by Jim Collins that I am reminded of:

"In order to get to our destination – you've got to get the right people on the bus, the wrong people off the bus – and everyone sitting in the right seat."

Women of Judah, ask yourself today, who is with you, – really- with you on your journey.  Who do you have in your room? Who is on your bus?