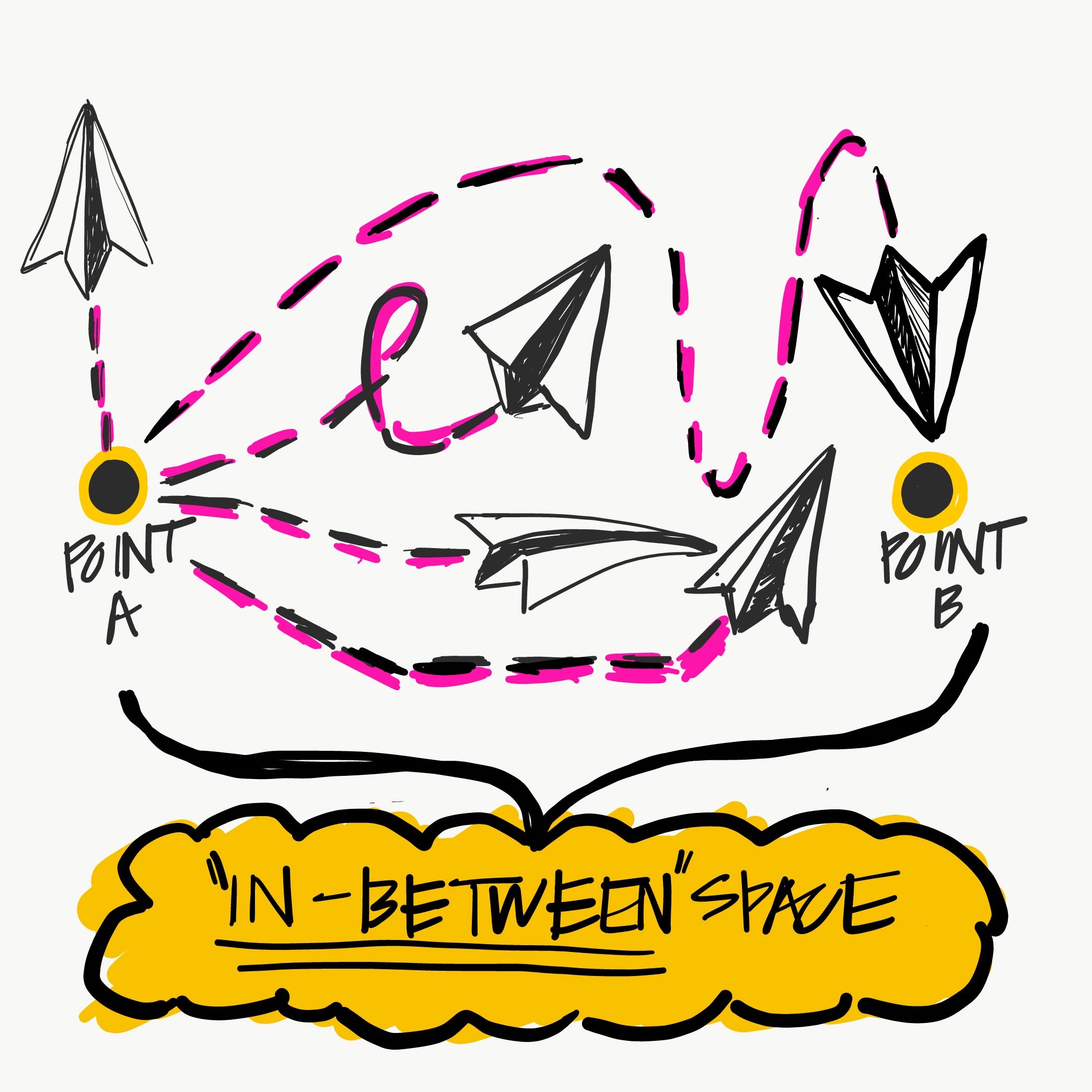 28 Aug

The "In-Between"

How are you? I hope your loved ones and yourselves are safe and healthy.

If you live in South Texas or Louisiana like me, then you have probably been preparing for imminent hurricanes all week.

As of late, my prayers haven't just been about protecting our state and families from dangers, but it has also consisted of statements like, "God, why would you give me this desire, if I can't fix it or figure out what the next steps are."

"God, I took steps to make it to Point A, but how do I get to Point B? Please correct me and show me plainly and clearly what my next steps should be."

"Lord, I know you able to do exceedingly and abundantly above what I could ask or think, but this place hurts. Fix it, please!"

If you have ever prayed a similar prayer, I want you to know you are not alone. Uncertainty can be hard on the heart. Especially when the things we are praying for are not crazy requests. Or when our requests are things that we think would please God or that we see God blessing other people with.

If you have been on social media, you've probably noticed an entrepreneurship trend of coaching and service selling. There are so many kinds of services that you can buy now – like business and leadership coaching, fitness, and diet coaching, and you can even find training programs on organization and mindfulness practices.

But here's the thing – all of these programs have one thing in common. These programs are curated to get people from Point A to Point B, from no skill to skill.

The only thing about the distances between Point A and Point B is that each distance has an "in-between' space. These skill coaches are successfully selling their services by marketing to the people who are stuck in this 'in-between' space.

The "in-between" space is the space between your work and your aspirations.

It is the space in-between your single-life and the marriage of your dreams.

It is the space between your current job and your dream job.

It is the space between your apartment and your perfect home.

It is the space between your incubator idea and your million-dollar business.

It is the space between you being ignored and being seen.

It is the space between your valley and your mountaintop.

It is the space where doubt, hesitation, and faith often collide.

Have you ever been there? Or are you there now?

In that space, doesn't it feel like you are stuck?

In 1& 2 Chronicles, Israel is in ruins and waiting for a king. Little did they know, their King was coming. But – did you know that before David became King of (Judah and) Israel, he was anointed three times,

1. David was anointed by Samuel the first time in his youth to become King and the eventual replacement for the disobedient Saul (10-15 years old).

2. He was anointed the second time as King over Judah (30 years old).

3. The third time as King over all of Israel (37 years old).

Anointing is an indicator of the authority imparted on a person. The anointing is what empowers a man or a woman to function supernaturally. Just as David went from Shepherd to King, each time he was anointed, his measure of authority increased. When he was to receive a new measure of power, he was always anointed again.

Sis, to be honest, we all are in in-between seasons. If it does not feel like it – maybe you are just too busy working to recognize it. Nonetheless, each one of you is anointed for something (called to do something) and called to something greater.

Last night, I watched a fantastic interview with the vegan influencer, Tabitha Brown (linked here), where she and her husband talked about her journey to fame. In the interview, she said she pursued her goal of acting for 22 years before discovery. Can you imagine being your 'in-between' season for 22 years?

She noted that in that season, she worked while she waited.

Whatever our 'in-betweens' are, how will we live while we wait?

What will we do while we wait for God to act, to answer our prayers, to give us our next steps? How will we put faith above fear while we wait for the proposal, for the offer letter, the perfect house on sale, to be seen, or the chance to pitch our ideas?

I believe the in-between seasons are the spans where the work really happens. It is where our faith is notably tested.

David's work as a shepherd prepared him for his future work as King. He had no idea that the skill he gained while protecting sheep would be used to defeat Goliath in battle. He did not know that his lyre, used to worship in the pasture, would position him in front of a king and eventually be the reason he became an armor bearer. In each of David's seasons, whether good or bad (and he made some mistakes), you can find him working. It was his work that prepared him for his most significant accomplishment and God's ultimate purpose for his life.

With all that's going on in the world, remember that God is working in the waiting. I don't know what your Point A or Point B is, but while we are waiting, we have to work, too! Be encouraged, do your very best, and surrender all of the rest.