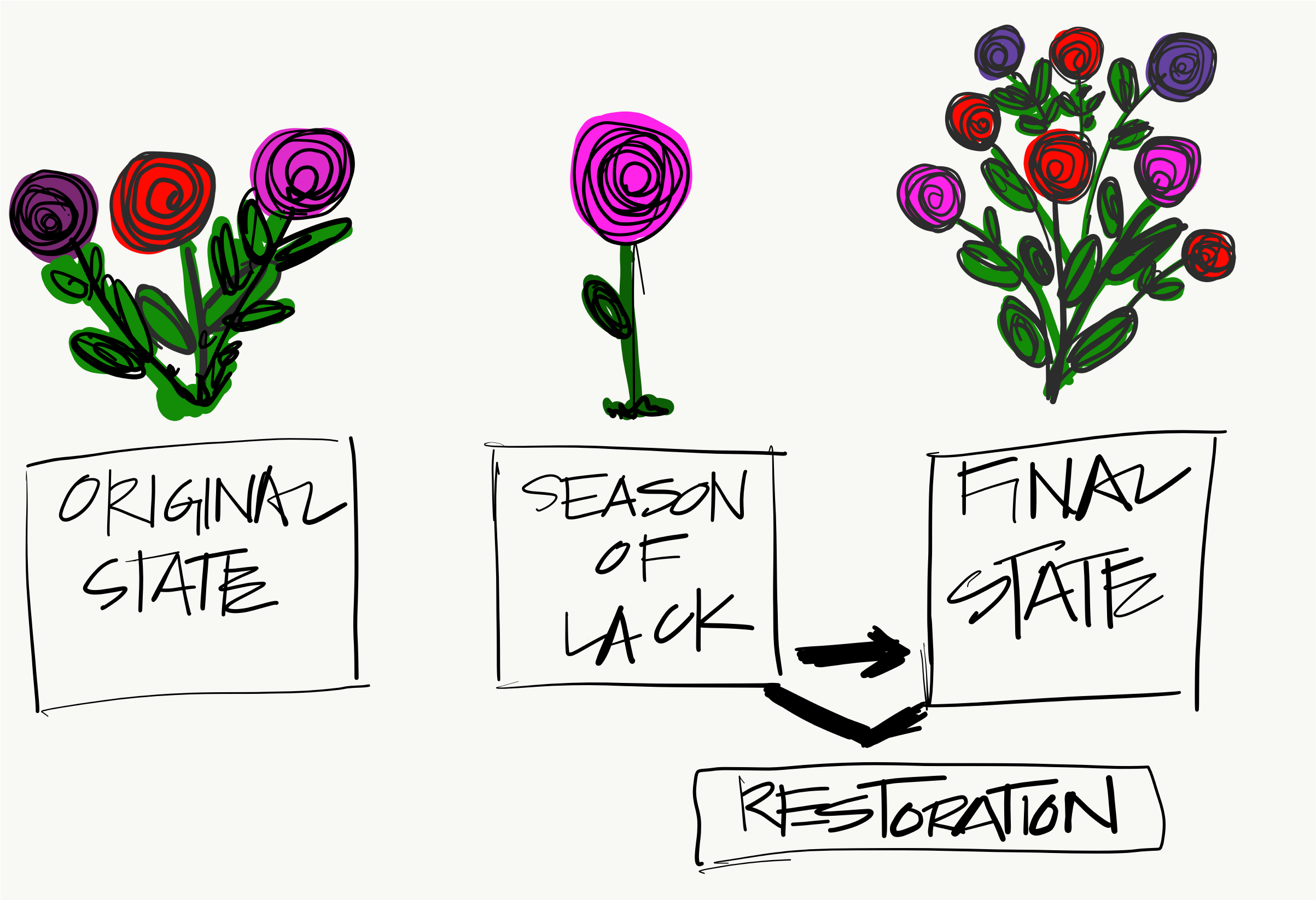 12 Jun

Restoration

In this time of uncertainty, so many of our plans have been changed and canceled.

CANCELED vacations.
CANCELED festivals.
CANCELED weddings.
CANCELED job opportunities.
CANCELED conferences.
CANCELED birthdays.
CANCELED anniversaries.
CANCELED graduations.
And if you lost your job, your way of life has been CANCELED.

While the idea of "outside" and January might seem like it was just yesterday, the reality is that the half-year mark has passed, and we're closer to the end of the year than we are to the beginning. The goals we had at the beginning of the year may seem bleak, and we may not recognize the people that we embodied on our vision boards.

Nevertheless, as our hearts grieve those plans, dreams, and celebrations, I propose that the result of these moments will yield something better. I suggest that instead of CANCELATION, we see RESTORATION.

And when I say" restoration," it is unlike the regular smegular Webster's dictionary meaning of "restoration," which is 'to return something to its original condition.' I think this restoration will be beyond that! Beloved, I know our God can do exceedingly, abundantly above all that we ask or think! Our God is a God of restoration. That is why in the bible, the word "restoration" means to receive back MORE than has been lost to the point where the final state is GREATER than the original condition.

When life is not playing fair, we can forget that God can restore all that is lost. We forget that God restores the same way he creates……….with His words. We forget and often separate from the source. Therefore, disconnecting from the very thing that can restore us to where we need to be,

Joel tells a story of when a locust invasion had destroyed Israel's crops and the impact lasted more than one year. When locusts destroyed a crop, they wiped out the seed saved from the previous year, the harvest of the current year, and the seed that would be used the next year. A locust's devastation of grapevines and fruit trees could have a multi-year impact and would take years to redevelop (Joel 1:4).

Joel uses the locust invasion as an illustration of God's judgment, but – also of God's goodness.

"Be glad then, ye children of Zion, and rejoice in the Lord your God: for he hath given you the former rain moderately, and he will cause to come down for you the rain, the former rain, and the latter rain in the first month……………….. And I will restore to you the years that the locust hath eaten, the cankerworm, and the caterpillar, and the palmerworm, my great army which I sent among you." (Joel 2:23-25)

The text describes restoration as a time where we will see:

• Green pasture for livestock: Provision
• Trees and vines that bear fruit: Production in your purpose. The seeds that you sew will produce that which you are called to provide (purpose).
• Rain: Anointing from God.
• Overflow: Overflow is a characteristic of anointing. When he anoints us, our families and communities will see the overflow.

When I think about this in the "natural," I see:

Provision—-Production—-Anointing—–Overflow

Seed——Sprout——Water—–Fruit

Right now, I am just as confused (if not more) as you are about what is going with COVID-19, the state of the union, and racial relations. I do believe that God's plans are more significant than my doubts and worries. And that ultimately His plans, will result in BETTER.

BETTER vacations.
BETTER festivals.
BETTER weddings and marriages.
BETTER friendships,
BETTER jobs.
BETTER conferences.
BETTER birthdays.
BETTER anniversaries.
BETTER graduations,
BETTER opportunities. and
BETTER love.

I encourage you to continue to put feet to your faith. Even if the steps are tiny and imperceptible. Women of Judah, keep walking toward the vision, with the word in your heart. Better is coming.