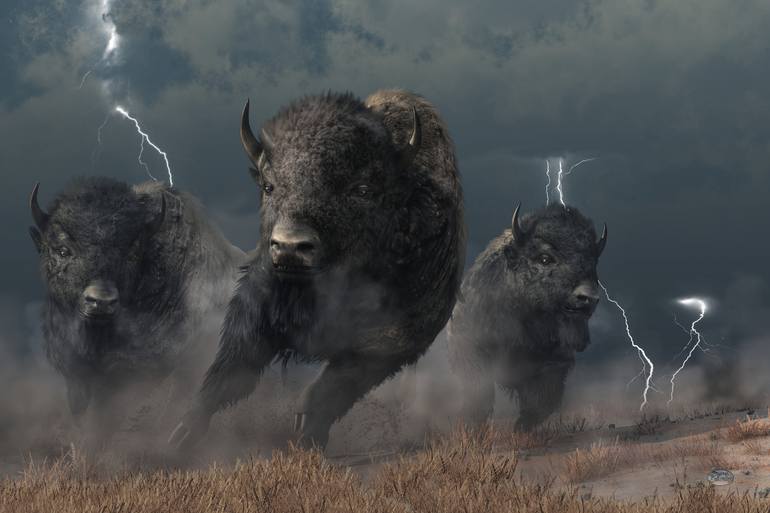 27 Mar

Be Anxious For Nothing!

Hey Girl, Hey!!!

You good?

I've seen a lot of posts lately about grief and anxiety as we navigate the unknown.

The grief of your old, busy lives. The worry and anxiety over sick loved ones, the balance of work and homeschool, and the loss of wages and experiences.

I know some of you are frustrated.

I know of you are scared.

And some of you are ok.

And it's all ok.

I read somewhere that when buffalo see a storm, they charge toward it, but when a cow sees a storm, they run from it.

In this storm, I want you to be the buffalo. I want you to 'charge'. I want you to allow yourself to feel all of the feelings.

The worry.
The good.
The bad.
The fear.
The praise.

It's amazing to me how nature always reinforces God's word.

What cows do is very natural. Cows sense the storm coming, and they say to themselves, "Nope. Not – today, Satan!"

Women of Judah, cows, run! The thing is — cows aren't very fast and end up running with the storm, tired, hurting, and prolonging the time it takes for the storm to pass by trying to outrun it when it is, in fact, probably too late.

The buffalo sees the same storm, the difference is, their reaction to it. By running directly into the storm, the buffalo minimalizes the storm's impact and breaks through it — into the sun on the other side.

For me — because anxiety is something that I battled with, well before COVID-19, I'm allowing myself to feel all the feels. In moments of anxiety and frustration or when tension starts to rise in my spirit, I'm reminding myself of the Word, my truth, scripture. A specific one that I turn to in moments like this, is Philippians 4:6-7 (NIV).

The Message (MSG) version eloquently puts it this way:

"Don't fret or worry. Instead of worrying, pray. Let petitions and praises shape your worries into prayers, letting God know your concerns. Before you know it, a sense of God's wholeness, everything coming together for good, will come and settle you down. It's wonderful what happens when Christ displaces worry at the center of your life."

It's easy for those who have planned financially or that have live-in help and other earthly riches to tout positive messages, but this scripture was written by Paul when he was in jail.

When you break down the words that he's sharing with us, it reminds us to:

1. NOT BE ANXIOUS ABOUT ANYTHING.

Easier said than done, right? Imagine never being anxious about a thing! The very word, anxiety, which in the original means, "tears the heart apart and makes a (wo)man quite incapable of doing the wise thing or seeing the wise thing to do, in the circumstances." In fact, a commentary that I read on biblehub called it, "an impossible exhortation!"

It is my hope, that during this time, and in other moments when you feel feelings of impossibility, that you choose to be the buffalo, and 'charge'. Feel everything your feeling right now. Don't let anyone tell you anything different. Charge and turn towards the one who you've been saying will make all things possible.

2. BUT IN EVERYTHING BY PRAYER AND SUPPLICATION WITH THANKSGIVING

'In everything'. If a feeling, a situation, a relationship, a decision, or anything can be big enough to make you anxious, then it is serious enough to God about. He's our father, right?

'by prayer'. When prayer is mentioned, it is not just some superficial tradition of merely asking for something from your Father. Prayer is an act of worship that glorifies God and reinforces our need for Him. It's a process where our soul seeks and finds. It is the experience of communing and listening. The forming of a relationship.

'prayer and supplication'. ACTUALLY ASK (I'm serious) Him for the things on your heart, the things concerning you and Him, the things you need (peace, protection, provision, friendship). He's there for you and with you and again, He's your Father.

'prayer and supplication with thanksgiving'. Thank Him! If nothing else, you should get excited, by simply acknowledging all that's He's done for you and through you. If you can remember those things – the ones that are good, then you know if he did it before, he'll do it again (*insert Tye Tribett*)! Remember – "in all things, God works for the good of those who love him."

3. AND THEN THE PEACE OF GOD, WHICH SURPASSES ALL UNDERSTANDING WILL GUARD YOUR HEARTS AND YOUR MINDS IN CHRIST JESUS.

God's peace is different than world peace (John 14:27). Actual peace is not found in affirmations, or gooey thoughts, it's not found in the absence of conflict, a flat tummy, and firm thighs, Chik-Fil-A or a lit party vibe. It comes from knowing that our God is the one in control. And you, Woman of Judah, being a child of God, means that we will ultimately have the victory.

Please, let God's peace guard your heart and thoughts.

I hope you're ok.

I hope your family, friends and loved ones are ok.

We will get through this!