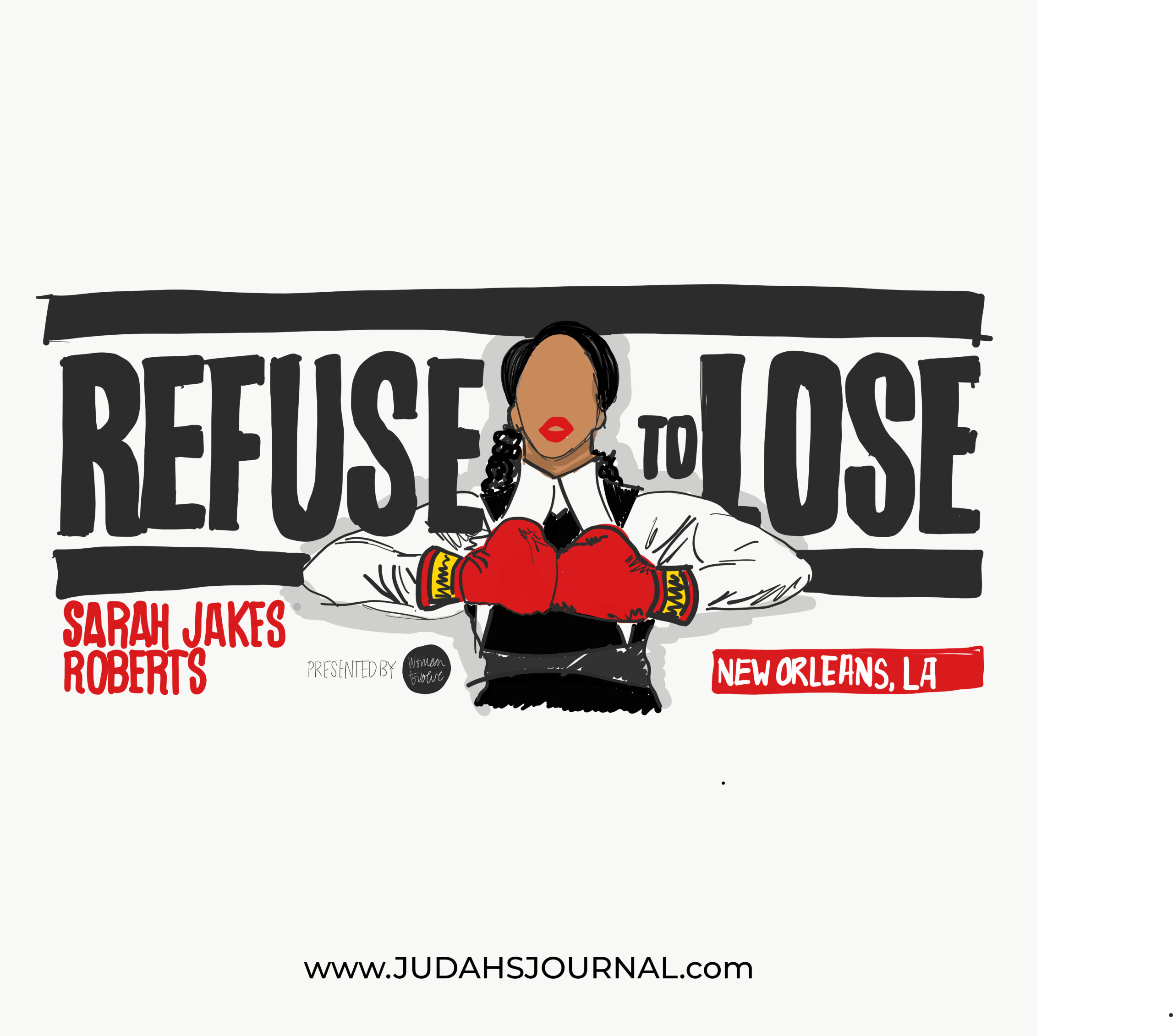 06 Mar

The Refuse To Lose Tour with Sarah Jakes Roberts'

Chileeeeee……….I went to the Sarah Jakes Roberts' " Refuse to Lose" Tour in New Orleans on Tuesday night and it was incredible!

When Sarah spoke, she discussed the relationship between Mary and Elizabeth.

The anchor scripture for the evening was ‭‭Luke‬ ‭1:39-45‬:
"At that time Mary got ready and hurried to a town in the hill country of Judea, where she entered Zechariah's home and greeted Elizabeth. When Elizabeth heard Mary's greeting, the baby leaped in her womb, and Elizabeth was filled with the Holy Spirit. In a loud voice, she exclaimed: "Blessed are you among women and blessed is the child you will bear! But why am I so favored, that the mother of my Lord should come to me? As soon as the sound of your greeting reached my ears, the baby in my womb leaped for joy. Blessed is she who has believed that the Lord would fulfill his promises to her!""

Earlier in the text (Luke 1:26-38) and six months into Mary's pregnancy the angel of the Lord (Gabriel) came to speak to Mary, to confirm that the Lord was with her, that she was favored and that she was, in fact, pregnant with the Son of God. At the end of their conversation, when she asks him, how? How is this possible? How is this happening? I have never been with a man. He tells her about her cousin Elizabeth, who was older and had never been able to conceive a child. He says to her, "See, your cousin Elizabeth, as old as she is, is going to give birth to a child. She was not able to have children before, but now she is in her sixth month. Nothing is too hard for God."

O how often when we're trying to carry forth our purpose, do we need to be reminded, "Nothing will be impossible with God." He gives, he takes, he provides in abundance, he sustains in loss.

Immediately after her visit from Gabriel, Mary, goes to see Elizabeth.

She didn't go to speak with her fiancé, Joseph.

She didn't go to visit her Mom or Dad.

She visited Elizabeth.

And you have to consider that she was six months pregnant walking upwards of 70- 100 miles, maybe by herself, likely in the hot sun, in danger. That had to be urgent!

You see, Mary had just witnessed a miracle, a move directly from God and she knew that she needed to be in connection with another woman who was also, witnessing a miracle from God.

Two pregnant women, two miracle mothers. One in her 70s, one in her early teens.

When the angel of the Lord spoke to Mary, he says, "You WILL conceive and give birth to a son, and you are to call him Jesus. He WILL be great and WILL be called the Son of the Most High."

When a woman has and is responsible for a WILL (see: purpose) — she knows that she has to get with other women who, also have a WILL.

And to confirm that Mary was where she needed to be, as soon as she greeted Elizabeth, the baby in Elizabeth's womb leaped and Elizabeth prophesied loudly! That Mary was blessed among women. The child she would bear IS BLESSED.

Tuesday night, Pastor Sarah said, "Everyone always talks about Elizabeth's baby leaping, but we never talk about Elizabeth being the first to confirm Mary's pregnancy."

Elizabeth didn't get jealous that Mary was carrying son of God and she wasn't mad that her cousin may have been stealing her thunder by being pregnant at the same time. She met her with joy and spoke purpose over her.

But, what most people didn't see and something that stood out to me at the REFUSE TO LOSE TOUR was that as Pastor Sarah brought the word of God to over three thousand women on that night, that if you looked directly in front to of the stage, her sister, Cora stood on the floor, front row center and covered her in prayer and cheered her on, as she spoke. As the night progressed, she was either fist pumping, extending her hand in prayer or thanking people for coming to see her sister.

Cora, like Elizabeth wasn't fighting for the spotlight or trying to get attention put on herself, she saw/sees the purpose in her sister, and she's covering her, speaking over her and cheering her on!

Women of Judah, can I ask you a question?

If God did something amazing in your life, who in your circle would be the first person you wanted to share the news with? Would that person root you on and pray for you?

Last week, we talked about the idea of being unequally yoked, but this week, I want you consider the idea of being equally yoked, with someone who pushes you to be the best version of you.

We saw that with Mary and Elizabeth.

I saw it with Sarah and Cora.

Today, I ask you, who is your Elizabeth? Who is your Cora? Who is the person circle that pushes you to be the best version of yourself?

Everyone needs a Cora, ya'll!